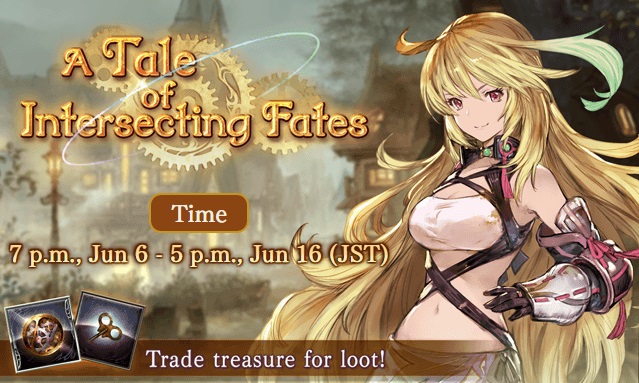 This event trailer currently is not yet translated by Cygames.


<- Click this picture to play sound.
時空の狭間に現れるという、
星晶獣ヴァシュロン──
その力によって、
今、交差する2つの世界があった。
「アスタリア」からやってきた、
ユーリ、ミラ、ソフィ。
蒼き空に導かれし3人の英雄は、
自らの世界へと戻る術を探して奔走する。
見知らぬ空で出会う、
かけがえのない仲間達とともに。
次回、グランブルーファンタジー
「交差する運命の物語」
ご期待ください!
New Characters
Edit
Loyalty Character: Yuri Lowell, recruit Yuri during the event. Raise him to 1000 Loyalty to keep him when the event ends.
Cross-Game Reward: Milla Maxwell, reach rank 30 in Tales of Asteria.
Treasure Shop: Sophie, exchange event treasures to recruit Sophie.
Event Treasure Shop
Edit
Challenge Battle
Edit
Recommended Class: Dark Fencer
Guests: Milla, Yuri, Sophie
The implied goal of this challenge is having all three Tales guest characters use their Charge Attack on the same turn. The caveat is that Vacheron applies an unremovable debuff on all characters which causes -10% Charge bar after every turn. If Vacheron uses its full charge attack, it will one-shot the party. Dark Fencer is recommended to allow more time to build charge gauge before Vacheron fills all his diamonds.
Turn 1: Use Dark Fencer's Gravity Wave. Use Milla's 2nd skill (Sunburst). Use Sophie's 2nd skill (Angelic Ascent). You can use other skills as well, but do not use Milla's 3rd skill (Cloud Pierce) yet. Attack.
Turn 2: Use Dark Fencer's Stall II. Attack.
Use Attack until Milla has at least 80% charge, Yuri has at least 90% charge, and Sophie has at least 80% charge. Once these conditions are met, use Milla's Cloud Pierce to gain +20% charge and use Attack. This should result in a 3-chain burst which will kill Vacheron.
Community content is available under
CC-BY-SA
unless otherwise noted.