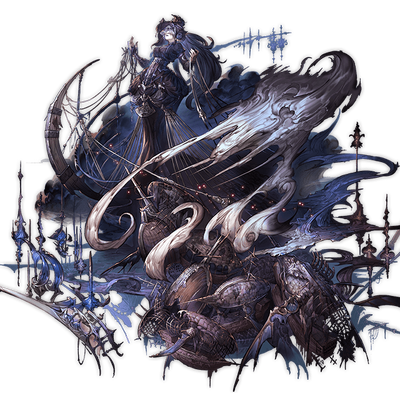 Celeste is one of the bosses of the main islands. She's first encountered on Mist-Shrouded Isle. Outside of the Main Quests, she is a raid boss.
Celeste [NORMAL]
Edit
Celeste [HARD]
Edit
Celeste Omega [EXTREME]
Edit
Celeste Omega is summoned from Zinkenstill from the right area, Azure Sky Passage.
Skills
Charge Attack

Oblivion Fall - massive Dark damage to all allies.
Bizarre Fog triggers if any allies have

Attack UP

,

Defense UP

, or

Refresh

buffs, and it takes priority over her Charge Attack.
Abyssal Fog triggers if any characters have Zombie: Stage 1 and, again, takes priority over her Charge Attack.

Abyssal Fog's Dark Resistance stacks with skills and summon calls. Onyx Carbuncle and Luminiera summon are commonly used with Abyssal Fog to deal with Oblivion Fall's high damage.

Null Void Omega triggers twice, under 50% HP and 25% HP, and takes priority over all of Charge Attack, Bizarre Fog, and Abyssal Fog.
Celeste Omega HL is guaranteed to drop

Ater Centrum.